GeoCube reinvents the way we explore Geography.  With GeoCube the world of Geography at your fingertips and just a mouse click away!
Geocube is an attractive online resource based on the principle of the Rubik Cube with six faces and 54 topics. It is a virtual and easily accessible website which is available online for free. Move the Geocube around with your mouse and explore the faces and topics.Geocube provides an accessible way to read, see and watch what Geography is and geographers do.
This is a European initiative developed by HERODOT, the European Network for Geography in Higher Education and is available to anyone who is interested in Geography.

National Geographic's Mapmaker Interactive
Encourage your students to explore the world with MapMaker Interactive! Show them how they can explore language diversity, worldwide electricity consumption, earthquake zones, and much more. Students can use the map themes, data, and tools to customize their own maps with their families.
Primary Vs Secondary Resources
FABULOUS – no exaggeration here! – little video from the Minnesota Historical Society which clearly and succinctly explains the difference between Primary and Secondary Sources.
Google Earth Timelapse
From the website: In 2013, we released Google Earth Timelapse, our most comprehensive picture of the Earth's changing surface. This interactive experience enabled people to explore these changes like never before—to watch the sprouting of Dubai's artificial Palm Islands, the retreat of Alaska's Columbia Glacier, and the impressive urban expansion of Las Vegas, Nevada. Today, we're making our largest update to Timelapse yet, with four additional years of imagery, petabytes of new data, and a sharper view of the Earth from 1984 to 2016. We've even teamed up again with our friends at TIME to give you an updated take on compelling locations. 
WWW Virtual Library: International Affairs Resoruces
The WWW Virtual Library of International Affairs Resources…  a free academic support site from Elizabethtown College in Pennsylvania.
Learn more here at this posting from FreeTech4Teachers.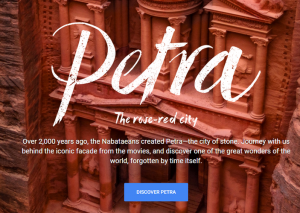 Discover Petra
Ever the geographer… it's not brand new, but I just stumbled across this… Exploring the ancient city of Petra in Google Maps.  The site Discover Petra takes you – and your students – on a virtual field trip that unlike any exploration you can do from a book.  In additional you can also find a collection of imagery from across Jordan here.

Climate Kids
The Climate Time Machine. Interactive educational game… part of NASA's Climate Kids website.
Save