Digital Explorer – Follow Expeditions and Learn About Science
Digital Explorer is an organization that helps students learn about science and geography through the study of expeditions around the world. Digital Explorer publishes educational materials that are connected to expeditions. The organization has also connected classrooms to expeditions through live video conferences. Whether or not your classroom follows expedition you can still find useful materials to use in your lessons.
Applications for Education
Take a look at the Digital Explorer resources bank to find materials like Google Earth-based science and geography lessons, marine life fact cards, videos from expeditions, and ideas for experiments to try in your classroom. There are materials in the resource bank that are appropriate for middle school and high school students. You can filter your search in the resource bank according to topic, student age, and material type.  
You will need to register on Digital Explorer in order to download materials from their resources bank.
(Originally posted on Free Technology for Teachers)
Chem Collective: Online Resources for Teaching and Learning Chemistry comes courtesy of Carnegie Mellon University and the US National Science Digital Library.  The searchable site features virtual labs and more.  Teachers have the ability to create their own course specific customised pages inside Chem Collective…  for free!  Get details here.
Jefferson Lab is an interesting source of educationally appropriate Science and Math Games.
GeoGebra offers interactive math and science lessons, tutorials and worksheets.  A great resource if you're thinking of flipping your classroom. As you work your way through the myriad resources on offer, do pay attention to the old wiki, as well as the YouTube Channel.
The Shape of Life
The Shape of Life offers educational videos about how animal life evolved on earth (produced by Seas Studios, National Geography and PBS) as well as teaching materials to accompany them.  I know this really isn't an "App" per se, but I thought it had merit and was worth sharing…
Science Take
Science Take are video shorts from The New York Times. A subset of a larger collection of Science videos, Science Take videos are great additions to traditional media you might use in your classroom.
5 (Five) Fun Physics Games for Students
In a posting at FreeTech4Teachers, Richard Byrne outlines five (5) games students can play to help them along the road to understanding some basic physics concepts.

NOAA View
Recently introduced NOAA View allows you to visualise data for a number of indicators over a variety of time spans.
Explore topics under the headings Ocean, Atmosphere, Land, Cryosphere and Climate.  Topics and data may be explored at either weekly, monthly or yearly time frames.
Mole Day
Apparently October 23rd is Mole Day.  Start with a TED-Ed video addressing this question: How Big is a Mole?
After watching this, check out other resources recommended in a posting at FreeTech4Teachers.
Elements 4D by DAQRI
Elements 4D by DAQRI is an augmented reality app which helps students explore the basics of chemistry.  Read more about the app in a full posting at FreeTech4Teachers.
Stage Fright
With the Olympics in full swing, and "performance season" beginning here at ESA, it seems appropriate to share a couple of items relating to nervousness.  Please follow these links:
Please follow this link to find this week's recommended App: The Molecular Workbench.  The Molecular Workbench, funded by the National Science Foundation, features interactive models, lessons and simulations in the three major branches of science.  Read more in the posting from FreeTech4Teachers.
Weather Lab
Smithsonian Science Education Centre Weather Lab.  Weather Lab is "a tool to help visualize how North America's weather is formed. This lab is designed to model the complex interactions between air masses and ocean currents, but like all models it represents probable outcomes. Each prediction you make is for possible outcomes during Spring."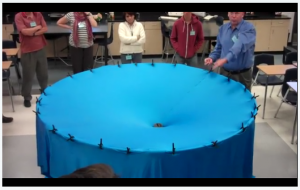 Gravity Visualised
Great little (approx 10 minute) video found on Open Culture.  Amazing what you can do with very simple pretty much everyday materials.
Google Earth Timelapse
From the website: In 2013, we released Google Earth Timelapse, our most comprehensive picture of the Earth's changing surface. This interactive experience enabled people to explore these changes like never before—to watch the sprouting of Dubai's artificial Palm Islands, the retreat of Alaska's Columbia Glacier, and the impressive urban expansion of Las Vegas, Nevada. Today, we're making our largest update to Timelapse yet, with four additional years of imagery, petabytes of new data, and a sharper view of the Earth from 1984 to 2016. We've even teamed up again with our friends at TIME to give you an updated take on compelling locations. 
Chemistry Resources for Students
Organic Chemistry Rap… and additional resources for helping students learn the Periodic Table.
My Molecularium
My Molecularium is a new free game app that challenges players to build a wide variety of molecules.  Learn more in this posting at FreeTech4Teachers.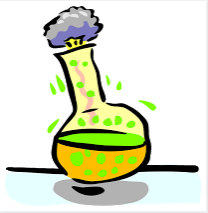 Chemistry Resources
The Periodic Table of Videos produced by The University of Nottingham features a video demonstration of the characteristics of each element in the Periodic Table of Elements. Each element in the Periodic Table displayed on the home page is linked to a corresponding YouTube video.
Learn more, including about additional content, in this posting at FreeTech4Teachers.

Climate Kids
The Climate Time Machine. Interactive educational game… part of NASA's Climate Kids website.
Save