Notes and Resources from Staff PD Session
Wednesday March 26th, 2015
Presentation by Andrea Joyce
TDSB Social Worker
Gender Based Violence Prevention Programme (GBVP)

All Staff members – and all other members of the ESA Community – are strongly encouraged to visit the GBVP website as it has links out to multiple additional resources of interest.
Click here to access a PDF copy of the GBVP Brochure, which explains what falls under the umbrella of Gender Based Violence, and what services the GBVP offers.
All of the relevant information has been compiled in a shared Google Doc, accessible to any and all who wish to avail themselves of the materials provided and/or recommended.

Topics addressed include the following:

Recently in the News
TDSB Resources
ESA Library Professional Resources
Other Interesting Resources (from Various Places)
Using Gender Inclusive Language in Your Classroom
How to be a Trans Ally (Infographic)
Trans Ally Tips

This list of topics will be updated as additional materials are added to the shared doc.
If you have any interesting resources which you think are worthy of sharing, please send them via email to enid.wray (at) tdsb.on.ca
Cheers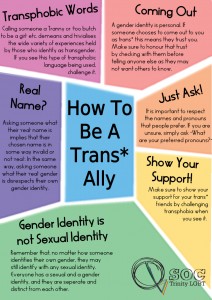 Coming soon to a theatre near you… May 21st to May 31st, 2015